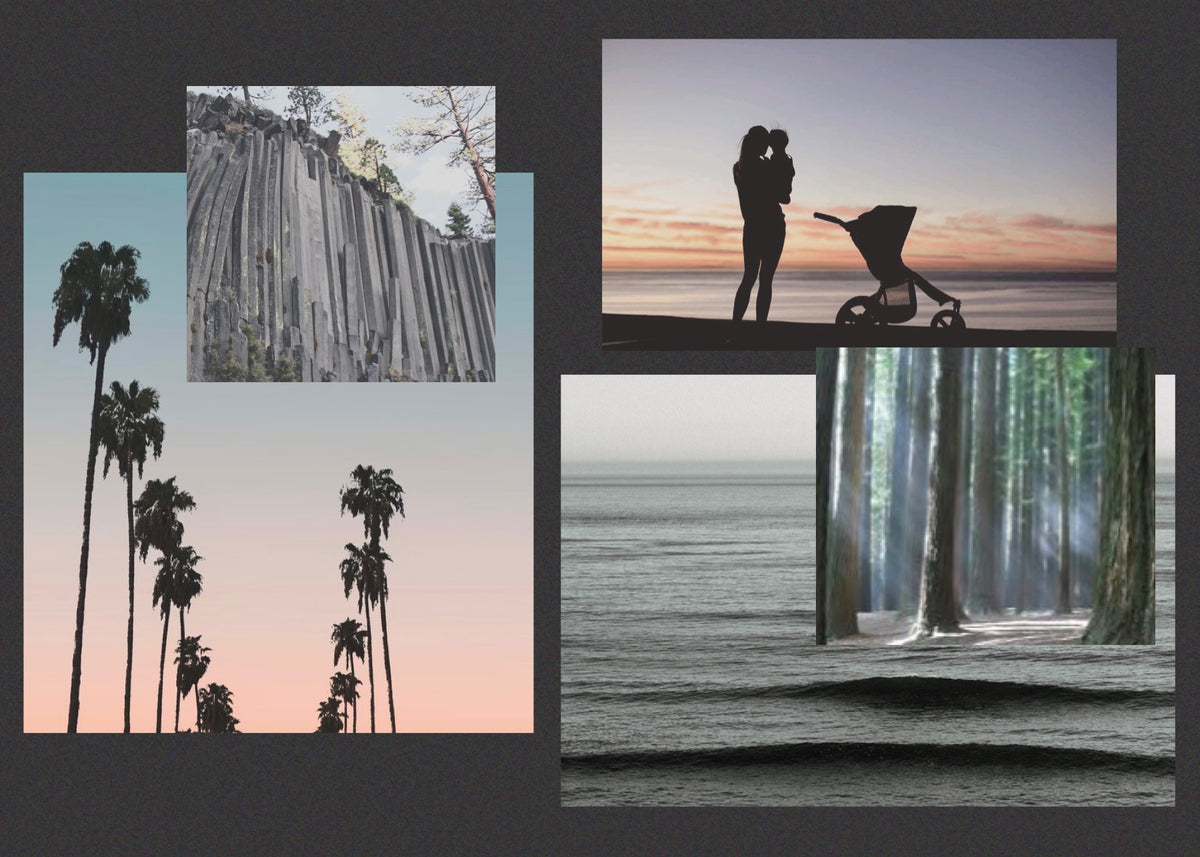 The shadows of the ocean horizon. That misty morning feeling among the California redwoods. Granite formations. The hour when the sun has set. A silhouette of a sweet moment between a mom and baby after an evening stroll.
Nature is often our inspiration. 
Our Dusk colorway brings a mood of soft, yet cool. The tone transports you to those slow, quiet evenings emersed in nature, the last fleeting minutes of light, best enjoyed with friends after a long day at the beach. 
The fabric of Dusk feels durable and long-lasting and uses a soft-to-the-touch, poly/wool blend that gives you that "we are ready for the elements" comfort.
Dusk fabric is certified by the Responsible Wool Standard (RWS), which requires all sites, from wool farmers to the seller in the final business-to-business transaction, to be certified. RWS farmers and ranchers must meet animal welfare, land management, and social requirements. 
Need some tips from a new mom of 2?
Here's a candid behind the scenes chat with Taylor, featured model for our Dusk Indie Twin photoshoot. Our day of shooting was unique because after meeting at their home in San Pedro, California the rest of our day was on foot. They live in a quaint town just one block from the ocean with several great parks that gave us incredible locations to capture photos.
From Taylor:
What do you love about living in San Pedro with your young family? 
We love San Pedro. We are nestled into a sweet little pocket on the coastal end, close to Angels Gate Park. We LOVE walking there with our girls and our pup. We regularly spot peacocks, red foxes, falcons and whale spouts on our walks over. The walk is so much more enjoyable and easy because of our Bumbleride Indie Twin stroller. If you've ever been to San Pedro you know about all of the hills! I seriously could not do it without my Bumbleride. We walk A LOT, sometimes it is the only way I can get my two girls to take a nap. So having a navigational stroller that is also comfortable enough for them to fall asleep in is absolutely crucial for me. 
Three words that describe your mothering style. 
I think three would have to be active, organizational and practical. We are a family that is constantly on the go, so having gear that allows us to do that is a must. Whether it's a day at the San Diego Zoo, a Catalina trip on our boat, or a road trip to Idaho, our stroller is always with us to keep our girls comfy. Organization and practicality are also pivotal when you have children, especially little girls! I need to have gear that I can always depend on and also carry ALL of the things. If you know, you know. Girls come with a lot of baggage, literally. Haha! Snacks, baby dolls, extra clothes, diapers, dogs…and more baby dolls! Somehow I manage to fit all of these things into our stroller and there is still room for the children! 
Any advice to share with mothers transitioning from one child to two?
Drink more coffee! Haha! At first it may seem impossible but once you get a system down, you won't even remember a time when you only had one. My two girls love each other so much and play all day. They're only 18 months apart. Having a double stroller is definitely a must though. Prior to having my Indie Twin, I had another brand of double stroller and it just wasn't as efficient; I could never get the wheels to go in the right direction, the girls weren't comfortable and it was difficult to load in and out of my car. My Indie Twin seriously made my life so much easier. I pack it in and out of my car with ease and take it EVERYWHERE.
You seem to travel a lot. Do you take your Bumbleride along?  
Our Bumbleride stroller has traveled to places such as Truckee California, Catalina Island, the central coast, a million beaches across Southern California and different parts of Idaho and Arizona. It does SO WELL down trails with bumps, gravel, sand and rocks. You name a terrain, we have braved it with this stroller and there are no complaints. The highly adjustable seats allow for the girls to lie all the way down, so each time we end up with sleeping babies and a happy momma! 
Any specific features you like on your Indie Twin? 
I would have to include how easy it is to fold up and store. We travel with a lot of gear and we need the space, so the fact that this stroller folds up and stores so easy and compact is a big deal for us. A lot of the time I'm alone with the girls too, and I can easily and successfully pack up my stroller into the car by myself. Another cool thing is obviously the bigger, more durable tires. The tires are what make it possible for you to head down tougher trails, through the sand and just easily push a stroller on your walk rather than trying to fight the direction of the tires, which is the case with a lot of other stroller brands. 
Which Eco aspects are important to you on your Bumbleride?
As a mother, it's important to me that my children are safe and not being exposed to all of those harmful chemicals that it seems like everything is made with nowadays. My Indie Twin is free from PFAS, fire retardants (which are present in a lot of baby pj's so beware!), BPAS, PVCS, chlorine, polyurethane foam, formaldehyde and vinyl! I love that Bumbleride uses recycled materials to make their products; their eco fabric is made from OEKO-TEX standard 100 certified 100% recycled PET-so that's 90 plastic water bottles per stroller. They also use recycled fishing nets to create different parts of their strollers which is SO COOL. If we can have something that is both comfortable and durable, AND still make a lower impact on the environment then why not?? 
Thank you, Taylor! We loved our day together with your family and all the exercise in your cute hometown. 
And thank YOU for reading :)