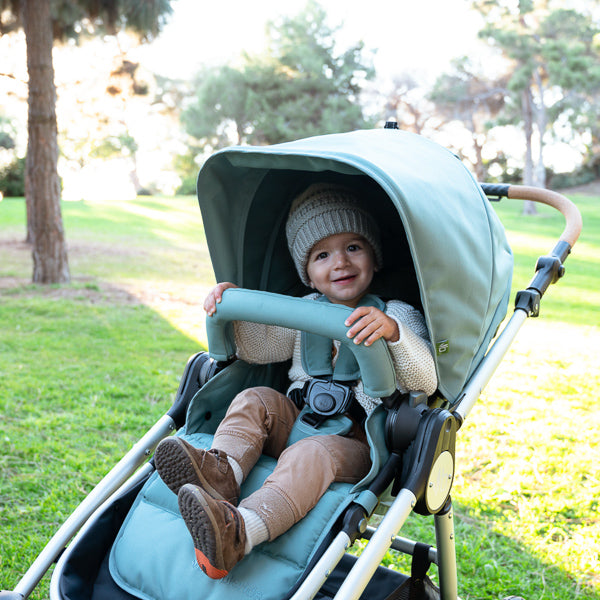 Meet Suzanne Price, Founder of Sprout. She and her knowledgeable team are on a crusade to make it easier for parents to create a healthy and beautiful environment for their family. You can feel safe and confident knowing that any product offered at Sprout has Suzanne's seal of approval and is free of any toxins or harmful chemicals. Read on to hear Suzanne's thoughts on PFCs and what is in store for environmentally friendly products in the future. She's a wealth of knowledge and we are thrilled to be partnering with Sprout to bring more awareness to these important topics.
 
Jill from Bumbleride: 

Parents have so much to navigate when choosing products for their new baby and family. Safety is always top of mind and many parents are unaware of the chemicals in baby products that have known health concerns for babies and the environment. How do you go about choosing the products that you sell in your Sprout stores?

Suzanne Price, Founder of Sprout: 
At Sprout, safety and avoiding anything that could hinder the healthy development of our little customers is our primary concern. It is true, as you mentioned, that many parents are unaware of the toxic chemicals that are still included in many children's products. We see it as our job to stay ahead of these areas of concern for our customers and to be looking out for toxins that may not have made it yet to the public's consciousness. To this end, we partner with a number of environmental health organizations, consult our scientific advisory board, and stay abreast of the latest research on chemicals in consumer products to be able to inform our purchasing decisions and educate our customers. We avoid any chemical that has been show to disrupt hormones at any concentration, and we avoid any chemical that might have an adverse effect on development, even years down the line.

Jill from Bumbleride: 

You are a big advocate for brands using PFC-free / C-0 DWR. We would love to hear your opinion on the matter.

Suzanne Price from Sprout: 

A few years ago, much of the public learned of the dangers of flame retardant chemicals, and many parents began to demand products without these chemicals on the fabrics. I believe that perfluorinated chemicals (PFCs) will be the next wave of chemicals of concern. There has been a growing awareness of PFAS, which is an example of a PFC. It is often described as a "Teflon chemical" since it has non-stick and anti-stain properties and many consumers now know to be wary of non-stick cookware. There has been new legislation, such as California's recent move to ban PFAS from firefighting foam, and even a popular movie about the chemical named "Dark Waters" starring Mark Ruffalo. Some of the most forward thinking organizations that I am involved with such as the Center for Environmental Health and Breast Cancer Prevention Partners are incredibly concerned about PFCs and the long term damage they are doing. These chemicals are called "forever chemicals" because they never break down and leave the soil or our bodies. Most people today have PFCs in their blood. As far as we know, Bumbleride is the only American stroller brand to specifically declare itself PFC-free. It seems that some European brands have been avoiding these chemicals as well, but in the US there is nobody else that is making a point of sharing this information. In fact, most stroller companies do not seem to be aware of what PFCs are when asked. This concerns us, because how can they push their fabric suppliers to find better solutions if they are not making this a priority? Though many say they use "no chemicals", most strollers are water and stain resistant in some way. We so admire Bumbleride's disclosure on the chemical makeup of their fabric finishers, and will continue to share this knowledge with our customers.

Jill from Bumbleride:

Bumbleride highly values Sprout as a retail partner and industry leader on eco-friendly product offerings. How do you and your staff educate parents in their decision-making when it comes to making baby purchases for their family? 

Suzanne Price from Sprout:

There is so much information to consider, and we try to share what we know with our customers without overwhelming them. We publish articles on our website whenever we find new information to share. We also try to remind our customers of what is important to look out for through our email newsletter and social media channels. However, the most important education comes through our team in the stores. Every employee at Sprout has taken and passed a test showing they understand all of the chemicals of concern in each of our product categories. This way, they can go above and beyond when talking to customers in store or on the phone. They are experts not only on putting together cute gifts or demonstrating how each stroller folds and fits with different car seats. They also can tell customers why we carry the products we choose to carry and what they should learn about these products as they become new parents.

I do want to mention that it can be easy for customer to be scared of all of the information we are sharing. I understand that and always recommend "do what you can do" and "every little bit makes a difference". We want to share knowledge and let people use it to make their own decisions about what is worthwhile vs. what is too expensive or inconvenient. We also just try to make it easy by assuring them that if they shop at Sprout, every product is vetted and safe. 

Jill from Bumbleride: 

What do you see as the upcoming trends in natural and organic baby products? 

Suzanne Price from Sprout:

Of course, I do believe that PFCs will be a major concern in fabrics going forward. I hope this leads to legislative change as it did when moms started demanding BPA-free baby bottles. BPA was finally banned from baby bottles soon after. In addition, I believe the shift away from plastics will continue. BPA-free is not guarantee of safety, as many replacement bisphenols have flooded the market and are not believed to be any better. We have seen a consistent shift over the years to stainless steel, glass, or silicone in baby food storage, and I hope that continues. In terms of personal care and cleaning products, there are now so many options of products created without endocrine disrupting chemicals such as phthalates (in fragrances) and parabens (as preservatives).  I hope these better alternatives and the shift in consumer consciousness around these chemicals leads to legislative change as well. We are moving towards that now in California. Finally, I believe that a greater environmental concern is sweeping all of consumerism and that people will be looking for products that create less waste and greenhouse gas emissions. Of course Bumbleride is at the forefront of that as well!

We have loved being your partner over many years and look forward to seeing what else you create in the future. 

Jill from Bumbleride: 

Thank you for all of this insightful information, Suzanne! The feeling of being your longtime partner is mutual!