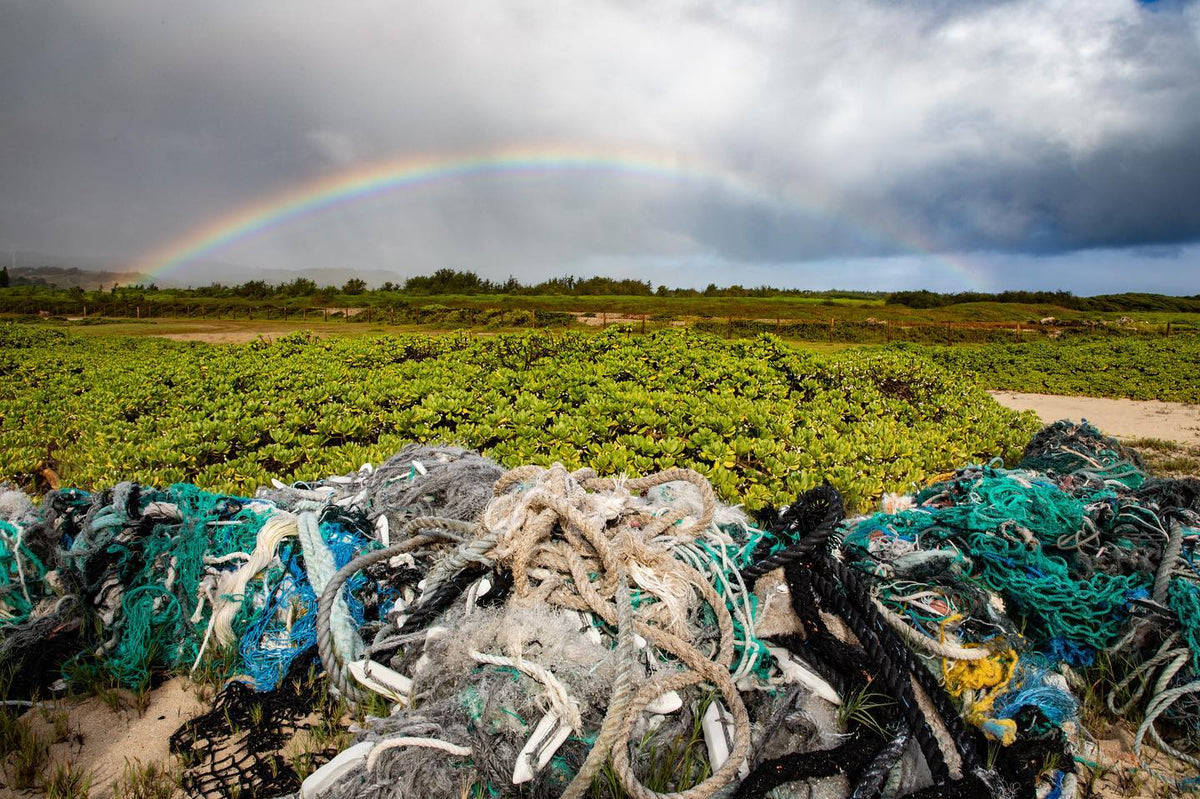 Meet Kahi Pacarro, Hawaii Director at Parley for the Oceans and Founder of Sustainable Coastlines Hawaii. Kahi and Parley are on a mission to reduce plastic pollution not only in our oceans and on our beaches but more importantly at the source, starting with our consumer behaviors. Parley does this through a multitude of ways including youth education, ocean plastic collection and a global cleanup network. Read on to hear Kahi's thoughts on plastic pollution and how products reusing fishing nets are part of the solution, but not the only solution. Kahi is a wealth of knowledge and we are stoked to have him as part of our Bumbleride Adventurer team and helping us bring more awareness to this topic.

Ryan from Bumbleride:

Being on the frontlines of addressing ocean plastic pollution, can you describe the situation we are currently facing and give parents some helpful tips to reduce their plastic waste?


Kahi Pacarro, Parley for the Oceans HI:


The problem of plastic pollution washing up on our coastlines in Hawaii is getting worse. But the debris being left through littering or accidentally is decreasing. We are huge proponents of leading by example, so to see better behaviors by our locals and visitors is encouraging but the fact that more is washing ashore is scary. We have much more work to do.
As a parent, it is very hard to avoid plastics but we do our best and continue to try to do better. I think most importantly itʻs not beating yourself up and just do your best with what you have. Some low hanging fruit for parents is looking at the snacks you provide and for us, we've been really pushing the whole fruits like apples, oranges, bananas, tangerines, and other items that don't require packaging. The more difficult one, which we are officially done with, is the reusable diaper approach. Both kids potty trained and we're out of the woods. If you don't know the life of disposable diapers, you have nothing to compare it to. In that case, it was easy! Yeah you might get some poo on you, but I guarantee you'll survive.
Ryan from Bumbleride:
What are some of the latest or innovative solutions Parley Global and Parley Hawaii are implementing that are helping clean up our oceans? Which part does fishing net collection play?
Kahi Pacarro, Parley for the Oceans HI:

At Parley we're really focusing on the Parley AIR Strategy. It's meant to replace the triple RRR (Reduce Reuse Recycle) campaign with (Avoid, Intercept, Redesign). We're also launching Parley AIR Stations around the world which are community hubs fashioned from shipping containers that house classrooms, educational exhibits and precious plastic recycling modules.


As for fish net collection, in Hawaii we don't have the type of net that manufacturers are looking for. We get #2 and #5 nets and they're all mixed up, dirty, and degraded. Therefore they are very hard to recycle. We also are not all about recycling. We'd prefer the fishing doesn't happen on an industrialized scale that requires such destructive gear. In reality, much of our company is actually vegan.
Ryan from Bumbleride:
Why are ghost fishing nets a problem? 


Kahi Pacarro, Parley for the Oceans HI:
Because even when they are discarded or lost, they continue to work as intended. They're killing machines that keep destroying until they are removed from the environment.
Ryan from Bumbleride:
Are there any companies using recycled fishing nets that you are a fan of like Bumbleride?
Kahi Pacarro, Parley for the Oceans HI:

Yes, I am a obviously a huge fan of Bumbleride, but I also really like Bureo who started with the nets to decks campaign making skateboards and have now evolved beyond to a broader offering of materials and products.

Ryan from Bumbleride:

Any advice for parents when making purchasing or lifestyle decisions in regards to balancing environmental impact?

Kahi Pacarro, Parley for the Oceans HI:


Buy quality and buy ethically. Don't just think of what something is made of, think of what are you going to do with it when you're done with it. Will it last? With Bumbleride, I know that when my family no longer needs it, another family can easily rely on it for years to come and from there hopefully longer to another stoked family just like ours. It's not always about whether a product is made from recycled or compostable materials. If that product doesn't last, you end up needing another. That's what really set our mind on supporting Bumbleride, it's made from recycled materials and it's going to last. Who's the lucky family that's gonna get ours once our kids grow out of them?