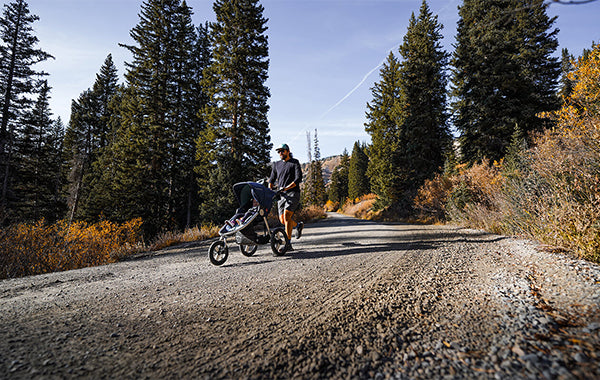 I'm a trail and ultra runner living in Salt Lake City, Utah with my family. When we first had kids, I decided the best way to continue training for ultra marathons was to take my kids with me. On a typical day I'll get home from work, hurry and load up one of my kids in the Bumbleride to take them out for a run. We'll go out for 5-15 miles and they will just sit their enjoying the view while dad pounds the pavement.
I also take my kids in our child carrier pack up in the mountains. Both of my children have made multiple summits all while napping their way up the mountain on my back. I love my children and want to be a good father, but I didn't want to have to sacrifice my love of trail running so I've learned to take them with me. This has provided great bonding time; spending hours with my children getting them into nature. What I've learned as a parent is that you don't have to sacrifice your personal passions or hobbies; simply find a way to incorporate your children into what you do. For me that has provided valuable one-on-one time with each of my children and given my wife a much-needed break.
I added up the miles I've done with my kids and it's safe to say I am running at least 200 miles a year with my Speed, with 17 miles being my longest distance. I've been running with Speed since 2016, so if you do the math, I've done well over 1,000 miles with my Speed and my kids. 
Longest distance in Speed: 17 miles
Location:  Salt Lake City, Utah
Keep going, Francesco! Thank you for reading.